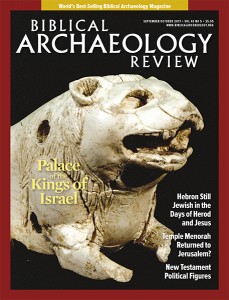 Rupert Chapman — formerly of the British Museum, London — examines the Israelite kings' palace at Samaria in his article "Samaria—Capital of Israel," published in the September/October 2017 issue of Biblical Archaeology Review.
In the Bible, King Ahab's palace is called an "ivory house" (2 Kings 22:39). We know from other Biblical passages that Ahab — and successive kings of the northern kingdom of Israel — ruled from Samaria. Ahab's father, King Omri, had established Samaria as his capital and built an elaborate palace there in the ninth century B.C.E. In his lifetime, King Ahab further adorned the palace with intricately carved ivories. Archaeology has uncovered some of these ivories, as well as the palace itself.
According to the archaeological remains of this structure and textual clues from the Bible, Chapman identifies the palace as a bit hilani, a kind of palace popular in the northern Levant during the Iron Age.
+++
Further reading
+++
Related articles