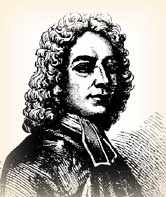 Born in Southampton, England on this day July 17, 1674, Isaac Watts was educated at the local grammar school, where his unusual abilities induced a local benefactor to offer him a university education. He fell under conviction in 1688 and learned to trust Christ in a personal way a year later. No doubt his father's influence was felt here, for his father was twice imprisoned for refusing to bend to the Church of England beliefs.
He preferred to enter the Dissenting Academy at Stoke Newington (1690–4), the high educational standard of which left a permanent mark on his mind. He gave his first sermon on this day, his birthday, July 17, 1698, at the Independent congregation at Mark Lane in London where he became a full pastor in 1702. Shortly afterward he became seriously ill and suffered such poor health the remainder of his life that he was often unable to carry out his church duties.
A kindly friend, Sir Thomas Abney took him under his roof and there he lived thirty years.
In 1712 he resigned and spent the rest of his life at Abney Park, Stoke Newington. In his later years he seems to have inclined towards Unitarianism. In 1719 he opposed the imposition of the doctrine of the Trinity on dissenting ministers.
Watts wrote inspiring poems which were attractive to worshippers and as such he deservedly holds a very high place among English hymn-writers. Scarcely a hymnbook today in the English speaking nations is without one or more of his hymns. In 1707, Watts published his Hymns and Spiritual Songs, which hymns reflect his strong and serene faith and did much to make hymn-singing a powerful devotional force, esp. in Nonconformity, where hitherto the use of music in worship, apart from the metrical Psalms, had been regarded with suspicion.
Watts faced fierce opposition. Many church leaders were opposed to his efforts and some called his hymns "Watt's Whims." The common people, however, delighted in them. Eventually the Church of England revised its stand and began adding hymns to their worship. His most famous songs point to Christ:
"When I survey the wondrous cross
on which the Prince of glory died,
my richest gain I count but loss,
and pour contempt on all my pride."
Psalm singing had fallen into a sad state and church leaders were seriously questioning what to do. Watts boldly called for a new kind of psalm, rewritten in light of the New Testament gospel.
"We preach the gospel and pray in Christ's name, and then check [stifle] the aroused devotions of Christians by giving out a song of the old dispensation."
They include many still in common use, among them 'Jesus shall reign where'er the sun', 'When I survey the wondrous Cross', and 'Our God, our help in ages past'. The two principal collections were Hymns and Spiritual Songs (1707) and The Psalms of David (1719). His other writings include Horae Lyricae (1706; poems), Divine Songs (1715; the first children's hymn-book), The Improvement of the Mind (1741), and a number of educational manuals, among them a Logic (1725).